Don't ever let anybody tell you that there's nothing going on in Portland. Have you checked out the options for this weekend? It's a veritable marathon of HillyTown-approved great music (funny, considering where I'll be all next week.)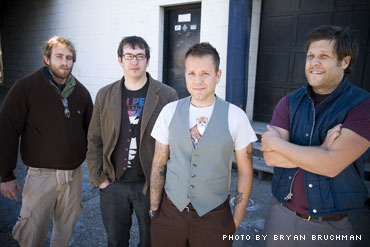 Starting tonight, there's the release show for the new disc from Portland's favorite garage punks Cougars Kill Cobras, happening at SPACE. Opening are Guillermo Sexo and Shellshag (who I highly recommend checking out.) If you still have your hearing tomorrow and don't end up lost on Peaks Island at Sacred & Profane, catch that ferry back to the peninsula in time for some great music. The obvious pick will be the incredible Jonathan Richman at SPACE (they've even got Hilton Valentine from the Animals opening) but I've got to point out another (might I mention free) show happening that's worth your time on Saturday.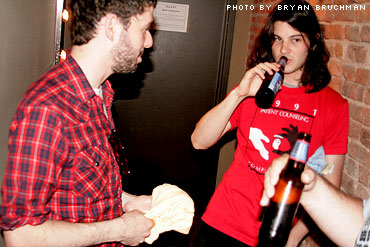 The Antlers are a band from Brooklyn, NY, fronted by young Peter Silberman, who recorded and released records under the moniker for years before putting together a live band in 2007. The above photo of the band is from backstage at this year's After The Jump Festival (which Portland's own Cursillistas – who will be at Strange Maine on Sunday – also played) in NYC. Their music can be haunting and slow, though they often infuse the quieter folkish tones with experimental walls of noise live. Think something between Antony And The Johnsons and TV On The Radio, though they'd be right at home on a bill with a great local band like Dead End Armory or Fire On Fire. On Saturday they play a free show at Slainte.
The weekend doesn't end at Saturday though. Keep it going on Sunday and Monday by hitting the DoorYard for South China and (more Brooklyn love!) Terrordactyls then again for Dead End Armory (pictured above) and (fresh from the Midwest!) Sleeping In The Aviary. Of course you'll notice these aren't even all of your options. Refer to the handy showlist for more, as usual.