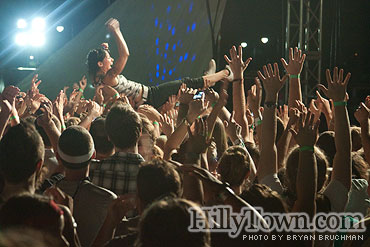 It's already that time! KahBang takes over Bangor, Maine this weekend for a nonstop festival of music, art, and film. Since music is our specialty around here, we'll address that with some recommendations. Start with this full schedule and follow along. Some bands (locals) are playing multiple shows, so you have a couple chances to catch them.
Here are our picks, starting with the obvious ones (aka HillyTown Presents alumni): A Severe Joy, Sunset Hearts, The Milkman's Union, Jacob Augustine, When Particles Collide, Miniboone, The Gay Blades, and Lady Lamb The Beekeeper. Catch a show from any of those acts and you're guaranteed a good time. This Way and Mallett Brothers Band do exceptionally well with their lives show, and fans of theirs will certainly turn out to see them on the big stage – same goes for the Wells, ME rapper, Spose. Music fans in Portland probably know by now that any Astronautalis show is not to be missed, and Pearl and the Beard have also been making a name for themselves with riveting performances on each visit to town over the past few years. Boston's Aloud have become regulars in Portland and feed on the same power-duo rock vibe as our pals WPC, so fans of theirs should take notice (same goes for NYC band Graveyard Lovers, also playing the fest).
Just because you might not be too familiar with them yet isn't a reason to miss a hot up-and-coming buzz band, so check out Penguin Prison, Steel Phantoms, The Box Tiger, and Now, Now. There are a few wild cards in the mix who sound promising (but we're not vouching for them just yet), like Lunic, The Other Bones, No Evil Star, Reptar, The Aviation Orange, Herra Terra, The Bynars, and Darlingside.
Have fun out there!