Hello friends of HillyTown, Maine music lovers far and wide. We're very, very excited this weekend. Why? Because tomorrow will be our first time participating in the L Magazine's Northside Festival, held in and around the Williamsburg neighborhood of Brooklyn. We were invited to curate a showcase featuring Maine and Brooklyn bands, and we're psyched about the lineup we put together for it! Things get started tomorrow – Saturday, June 16 – at 5pm at The Grand Victory. Free with festival pass or $9.
Troubled Sleep – 5pm (Brooklyn)



I first heard about this band at my local coffee shop/record store and was immediately hooked. Like a heavier version of Mango Floss or the softer moments of Pretty Girls Make Graves, this Brooklyn-based foursome kicks off our show with sweet indie rock. It'll be our first time seeing them live, and we hope you make it yours as well.
Lady Lamb the Beekeeper – 6pm (Maine/Brooklyn)

Our dear friend Aly Spaltro should need no introduction around here. We've watched Lady Lamb go from a duo playing to a few friends at Slainte Wine Bar to playing huge festivals and theatres (a prediction we made from our first encounter), and we couldn't be happier for her. She's currently wrapping up a new album here in Brooklyn, which we're highly anticipating to be a new favorite the second it hits earholes from New York to Maine and beyond.
Weird Children – 7pm (Brooklyn)

Though they're a Brooklyn band, we first encountered Weird Children when they contacted us about playing last year's Picnic Festival in Portland. We'd known a couple members of the band from other NYC acts they'd been in, and were pleasantly surprised when they blew us away on the stage in Lincoln Park. Thus began a now year-long love affair. Check out their BTR session to get to know the band – maybe a little too well.
Brenda – 8pm (Portland, ME)

Here's a fun fact: before I actually moved from Brooklyn to Portland, ME in 2008, I took a few trips up, making sure to check out some local music each time when I could. The first show I saw at SPACE Gallery was the Cave Singers, and local band Brenda opened. The band has grown and changed significantly since then, building a strong local and regional reputation.
Flying Pace – 9pm (Brooklyn)

A sort of supergroup of a particular piece of the NYC music scene, Flying Pace will be celebrating their first release at this show tomorrow. Their debut collection of songs comes in two parts: Quick as a Wink is the first EP (or Side A) and will be available tomorrow. The second EP (or Side B) is called Quiet As A Mouse and will be unveiled on July 20 with a show at Union Hall (we're presenting that one too, so there will be more on that later!)
Sunset Hearts – 10pm (Portland, ME)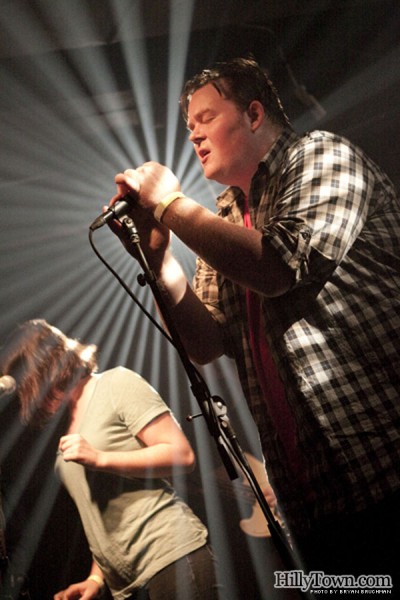 Last year's debut from this 80's-inspired Portland music scene megaband, Haunted Cloud, made a huge mark and earned this 9-piece group some huge praise and great opportunities. Now, their recently-released followup, the Deco Tech EP, sees the group growing as a band (the original batch of songs was written, composed, and demoed by songwriter/frontman Casey McCurry, while this release sees perhaps a bit more collaboration and influence from the massive group). We're anticipating a fun close to the night with them, spilling out into the room (because really, that stage area is pretty small and there are a whole lot of humans in this band!) and bringing the infectious dance to everybody around.