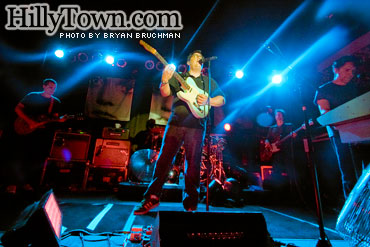 On Friday night, They Might Be Giants made it up to Portland, Maine for their (supposedly) only show in Maine this decade. Though they often double it up and do a children's show early in the day followed by a later club show for the grownups, this time around they just brought the full-on-adult rock to Port City Music Hall. Audrey Ryan opened with a set full of acoustic guitar, accordion, and a bit of an overly aggressive smoke machine. One of the quirks of PCMH is that when though the stage is large, it's pretty low to the ground, so when someone like Audrey Ryan performs sitting down, it's hard to tell if it's a recording or the opening act you're hearing! I suppose it's a testament to PCMH's top-notch sound system, but it can lead to some confusion when the house is packed and you can't quite tell if something is happening on the stage or not.
It was great to see They Might Be Giants here in Portland, and of course they played all the hits that you'd expect to hear at this point in their long career. Their set last over an hour and a half, so fans certainly got their money's worth!
Check out the full exclusive photo gallery from this show here.