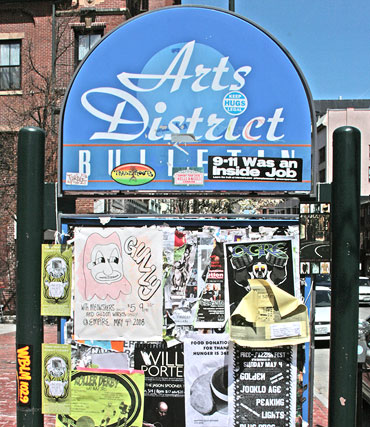 The Portland Daily Sun has as its lead story the breaking news about how it's hard to get your event flyers noticed in Portland. The above photo (taken last Spring when I was visiting Portland before moving here, I remember noticing how crowded the community boards were with concert announcements) gives you an idea of how the limited poster real estate is used. The most important piece of information in the article that I can see is the news that there are plans to replace the rusted staple-covered community boards around town some time this year. Definitely good news for those of us who are used to trying to staple a poster to them only to have the staples not reach the wood!
Lately there have been more and more concert posters showing up on telephone poles, random walls, and other places where they probably shouldn't be. Usually it's not the venues and promoters that make oversized, full color posters utilizing these alternative spaces: it's the diy house shows, the burlesque groups, and the younger bands who don't feel like there's room for their promotion on the community boards. When large venues can keep pumping out all the large color posters they want to cover up anything that stands in your way, why bother competing? The article addresses this issue in terms of safety concerns as well as reminding people of the potential fines associated with flyering in unauthorized places.
I've suggested in recent months that Portland could use one highly visible, managed area for promotion where everybody can submit their poster and be sure that it will continue to be available until their event has passed. How exactly this can happen, where, and who would be responsible for it is very much the question, but I can only assume this is sort of the "Camp David" idea (which doesn't get explained at all) mentioned in the Sun article.
It's nice that Spencer mentions some sort of promoter discussion about the issue, but why not suggest alternatives up front in the article? Here are my ideas:
– Use smaller flyers. Covering up and tearing down large flyers and posters will only create tension and get your flyer covered up again. Instead, use the space creatively. Make a smaller flyer and place it in the negative space on one of those large flyers if there's no free room on the board. I typically put 2-to-3 flyers on a letter-sized paper and try not to go much bigger than that for use on the the community boards. That way they're small enough that I can always find some sort of space to place them without being forced to cover up other people's work.
– Make great screenprinted posters and ask local businesses to put them up in their windows. They'll stay up longer and not risk being covered up. There are lots of great coffee shops and stores that are happy to help out.
– Promote shows online. Send your show listings to hello@hillytown.com as well as to the local papers and radio stations.
– Use handbills and promote directly. Let's face it, not everybody pays that much attention to the cluttered community boards around town. Your promotion will be much more effective if you interact with your potential audience face-to-face. Go out to concerts and hand out small flyers, make sure you leave some at the venue where you event will be, and just generally put the word out there.
I'd love to hear more thoughts on this issue, including your own ideas for promotion. Finally, let's not forget one issue that the Sun article didn't even touch: all the paper wasted. Any suggestions?