Mayo Street Arts has been one of our favorite unique venues in Portland since it opened, and there was something very charming about the sort of intimate performances that the limitations of the room demanded. However, we've been curious about just what a full on rock band would sound like in there, and now we can find out. Audrey Hotchkiss (of the band Bath Salts) will fill you in on the changes at MSA. Photos by Audrey.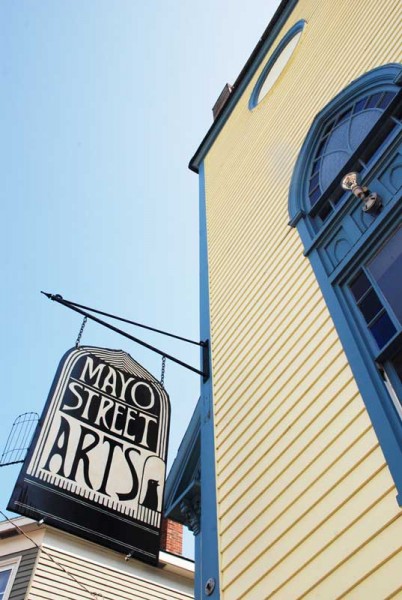 East Bayside is, by all accounts and personal experiences, a noisy summertime neighborhood. But where endlessly ignited M-80s, late night barbecues, revving engines, and the debacle that is the post-4th of July traffic jam don't garner much attention in the way of noise ordinance enforcement, somehow rocking music past twenty hundred hours does. The good news, neighbors? Mayo Street Arts Center at 10 Mayo Street has just completed a comprehensive DIY renovation on their stage to reduce offensive sound waves outside the building while simultaneously focusing them on the listeners inside, the likes of whom are actually interested in busting up their ear drums.
Mayo Street Arts has been known to host a wide variety of community enriching programs with an emphasis on puppeteering, belly, contra and burlesque dances and acoustically oriented shows. With the renovations now completed Mayo Street Arts director, Blainor McGough, is enthusiastic about broadening the scope of what cross sections of the community can enjoy the space they offer. Amplifiers are welcome.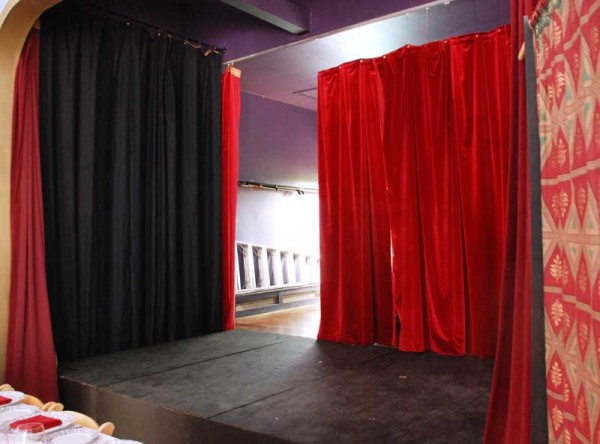 Let's get technical. The physical changes to the stage at MSA included building a removable stage that sits flush with the proscenium (fancy word for 'opening') and surrounding it with a gorgeous layer of red velvet and black box-pleated curtains (fashioned by director McGough and MSA interns) creating a 'stage left' and 'stage right' as well as a substantial backstage area while reducing echo. The proscenium has been raised and finished with the help of Sunrise Builders which allows for more effective sound projection. These improvements are drool-inducing for the theatrical student or the puppeteer, for sure, but we couldn't help but get the gears turning about the sweetest possibilities-of-rock in an all ages venue still within walking distance of late night pizza slices and 7-11 nachos.
July's the month to break in these new theories, beginning on July 13th with Portland bands Bath Salts, 13 Crystal Skulls and, visiting from New Hampshire while on tour, MMOSS, who are no strangers to Portland after opening for Thurston Moore at SPACE Gallery earlier this year. It's a gloriously early Friday show starting at 8pm, all ages, $5. Bring your little sisters and brothers.
The following weekend, Saturday July 21st will see Rev. Crank Sturgeon, idMtheftable, Jennifer Claster, Bling-ior, Cranky, Chico, Kelly Nesbitt & Freunds test the plaster on the walls with "Sweatin' to the Oldies." 7:30pm, $3.
Mayo Street wants to extend special thanks to their partners in elbow grease for making these changes possible: all the lovely interns, Brian Arlet, Pistol Pete the upholsterer, Sunrise Builders and all their patrons, exchanging money for goods and services to help sustain an exceptionally diverse arts space.