Last night (Monday, February 28, 2011) at the State Theatre, Girl Talk turned the sold out crowd into a hot, sweaty mess where everyone – as requested – did their best to forget the fact that it was Monday night, and they should probably be doing homework, sleeping, or whatever – anything but dancing their faces off at a concert. Toilet paper cannons, gigantic inflatable things, a towering video/light wall, dancers pulled from the crowd to share the stage, thousands of balloons, confetti… they were all put to good use. Gregg Gillis (Girl Talk) performed (as usual) at a large table, pushing him back from the stage and only really in full view when he stood up on his chair – but his team of dancers/stuff throwers/party starters functioned like an extension of Girl Talk, spilling the show out into every corner of the room. It was so hot in there (and so cold outside) that the walls of the recently renovated building were actually dripping with sweat (err, condensation, but probably a bit of both).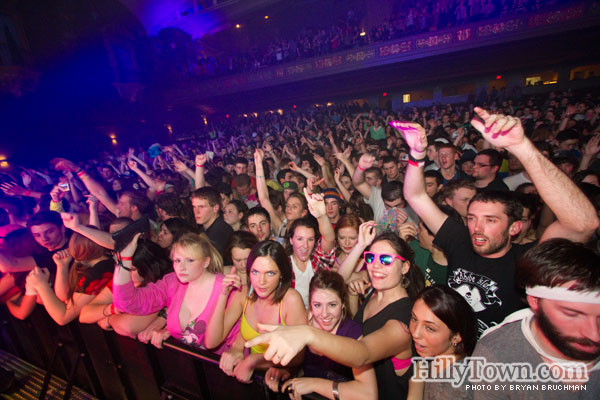 It was a younger crowd than I've ever seen at a show in Portland (granted I tend to spend most of my time at 18+ and 21+ venues) but even the venue took note – for this event drinks had to be kept in the restricted bar areas because of the overwhelmingly underage crowd. What's it say that there were so many young people out at this show? Well, I guess the kids like to dance. Openers Junk Culture (a heavily electronic duo) and Max Tundra (a massively entertaining, kinetic physical solo performer) did the tough job of warming up the crowd to great effect. The (massive) photo gallery that follows definitely proves that point. All that's left now is to Eat That Lobster (seriously, what was that about?). Check out the photos (again, there are a lot of them, give it some time perhaps) after the jump.
All photos by Bryan Bruchman. Please do not use without permission.