I'm back from SXSW and catching up on the photos of all the bands I saw there. Here's another one!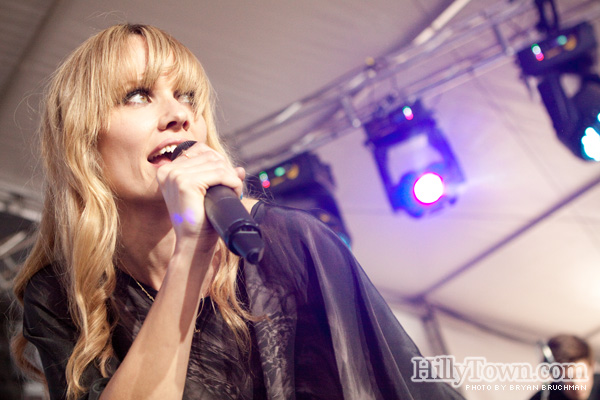 Band: Oh Land / Hometown: Brooklyn, NY
Show: Fader + Austin BFFs / Venue: Fader Fort By Fiat + Lipstick 24 / Date: 3/17
We first encountered Danish singer Oh Land (Nanna Øland Fabricius) back in September when she visited SPACE Gallery in an opening slot for Mates Of State (see photo below). Having no frame of reference at that time, we were impressed by the songs, performance, and high production value – which included LED walls, video projections mapped onto balloons, and more. Now, with the music world at large having caught on, Oh Land played a slew of high profile shows in Austin during SXSW. In one afternoon, I caught two shows in a row. The first at a large venue (the Fader Fort By Fiat) and then at a small outdoor patio space (on the same show as Milagres).
Tonight, Oh Land makes their national tv debut on Jimmy Kimmel Live! Read on to see the video for "Son Of A Gun" and our full photo gallery from the two SXSW shows!
All photos by Bryan Bruchman
Watch a couple videos of Oh Land performing during SXSW at Idolator.