review by Biscuit Wakefield – please read "Biscuit On Cookies"
Big Sky Bakery
Chocolate Chip Oatmeal Walnut Cookie
(I purchased mine from the Public Market, but it's available at the Woodfords location as well)
(My apologies, I forgot the price. Again! It was reasonable, though, I remember that. Good cookies are so distracting.)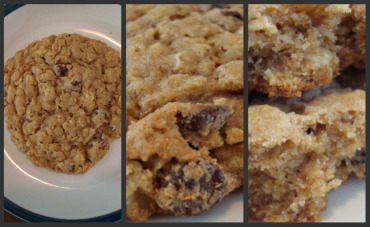 Now that the air has cooled I find myself turning to that old breakfast standby: oatmeal. Such simple food, yet so nourishing, so satisfying. Amazing how a few cents' worth of oats will tide you over until lunch, even if you have a busy morning and lots of leaves to rake.
However, in my mind, there is a clear distinction between a chocolate-chip cookie and an oatmeal chocolate-chip cookie. Oats lend sturdiness, texture, and yes – flavor. Oats in a CCC aren't an 'add-in.' They're a revision (OCCC). Mind you, it can be a tasty revision, as this OCCC from Big Sky proves.
Butter fans, take note! Real creamery taste shines in this cookie, and there's just enough salt to cut the rich sweetness. Big Sky is, of course, known for its breads – the Honey Whole Wheat is a staple of the Wakefield household – and while it seems odd to say this, it's possible to detect the quality flour in Big Sky's cookie. It's oaty, yes, but wheaty too; I'd be curious to taste a version of this cookie sans oats, just for comparison's sake.
Walnut fans, also take note! I do not, for the record, prefer walnuts in my cookies. But these are fresh and flavorful, lacking the bitter tang that plagues cheap (or aged) nuts. As for the chocolate, it's dark and assertive enough to mingle with all these other flavors, though I wish there'd been more of it. I say that, though. What really grabbed me about this cookie, and what I'm remembering now as I write about it, is the phenomenal, comforting, homey taste and mouthfeel of the grains surrounding said chocolate.
I guess this is the only cookie that's ever made me crave a bowl of oatmeal. I mean this as a great compliment.