The eclectic lineup for the Nateva Music And Camping Festival included some big names from both the jam and indie rock genres, and made for an interesting experience for fans from both musical worlds. We've got photos from all three days, though Saturday's lineup (with She & Him, Grizzly Bear, the Flaming Lips, and some local bands) was what we were mostly interested in. HillyTown contributor Jenna Quartararo recaps what we saw for you (starting with the first full day of the festival, Friday, which we already covered), with a whole lot of photos too (warning, there are an absurd number of images in this post, it may take a while to load on slower connections):
Tons of photos after the jump…

"This is magical," noted Flaming Lips frontman, Wayne Coyne, during their Saturday night set at the Nateva Music and Camping Festival. "This night is magical because you're treating this confetti (of which much was sprayed on audience members throughout the Lips' set) like it's diamonds shooting out of a dragon's ass."

There was a lot of metaphorical magical confetti that weekend.

The process of getting to that field in Oxford was relatively smooth, (except for some completely inaccurate Google Maps instructions resulting in making a circle off of exit 63. Minor detail.) and just before the sun began to set Friday night, we pulled into the dirt lot where the small teal "Credentials" trailer sat. During non-Nateva times, they sell tubing gear. A sunburned woman sitting on the steps greeted us, and inside a friendly man welcomed us and gave us press wristbands and maps.

We continued two miles down the road to our off-site camping area [at the Oxford Speedway, site of a legendary 1988 Grateful Dead concert the same weekend], where a hilarious man with long gray hair and an arm full of gold and silver bracelets – he's been on the road since May 20th, apparently – gave us our choice of two patches of dirt/grass/and brush which would be our home the next two nights. He was the first bit of magic.

Coyne was also appreciative of all the help that worked to make the weekend come together, and thanked everyone all the way down to the people responsible for providing port-a-potties clean enough for him to "put his ass on". From the goofy man at the camp site, to the friendly dreaded boy who politely explained which items in our hands were compostable, to the man dancing to STS9 while working the ferris wheel, all of the volunteers and workers we interacted with were extremely pleasant, and added to the good vibes all around.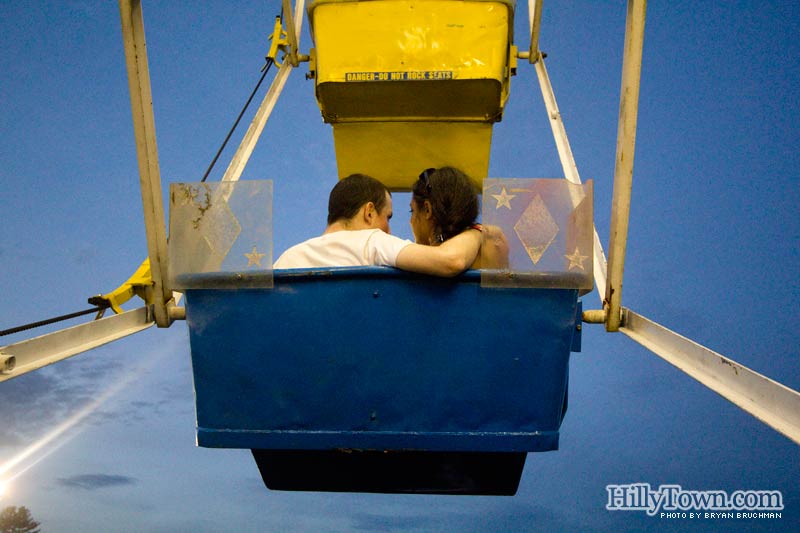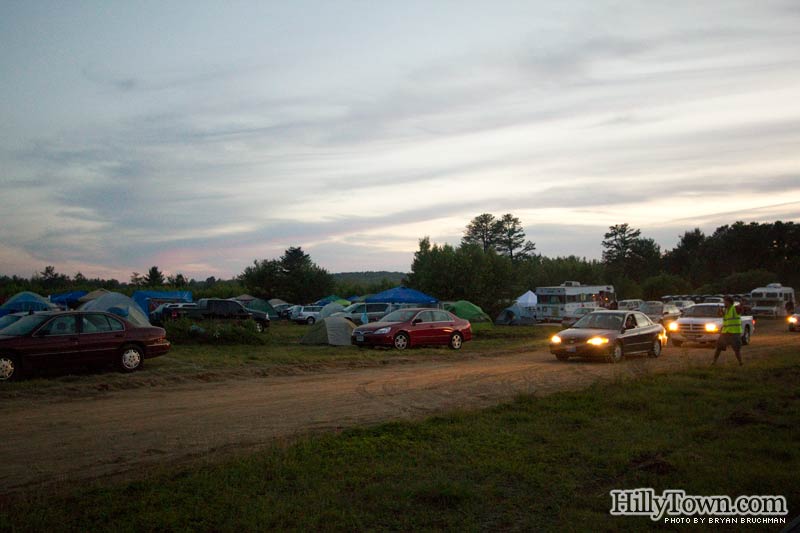 More magic came after pitching the tent and taking the shuttle/school bus (which luckily ran 24 hours a day!) the short drive to the main festival site. A ride where the 60-something bus driver asked if any of us were afraid of the dark before turning all of the lights out. As we stepped off the bus we could see laser lights and hear electronic beats. We had made it in time to see a good portion of Ghostland Observatory's set. It was the perfect musical introduction to the festival, as the largish crowd filled with people dancing in outlandish costumes danced uninhibitedly to the pulsing music.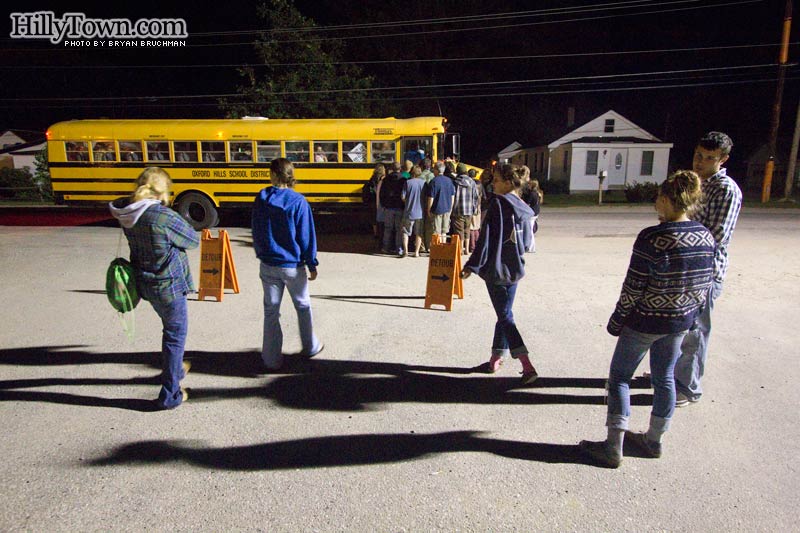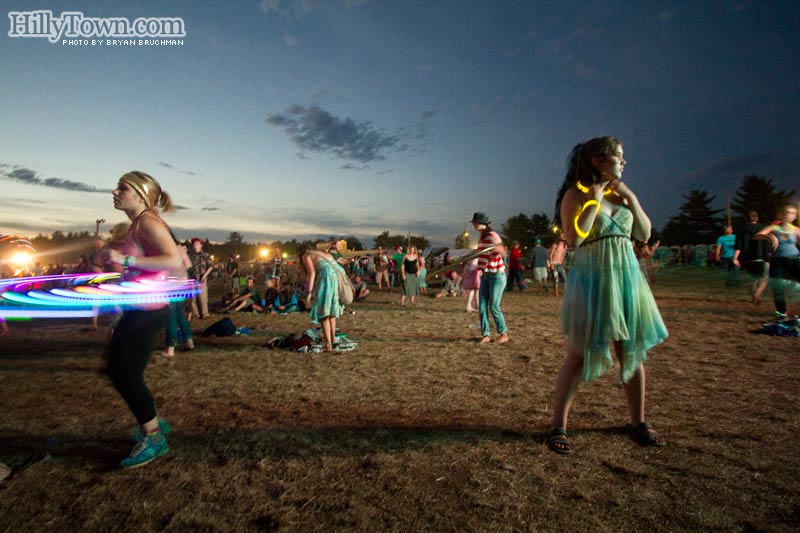 We found a cooler and some beers while we waited for the late-night Felice Brothers set to start on the Port City Music Hall stage. Like a Cabella's taken over by Urban Outfitters, the space was a mix of barn and warehouse with a great lounge area in the front decorated with quirky art on the wall, a fake campfire in the middle (complete with  felt marshmallows for roasting!), and a white gun chandelier overhead. Yes, I considered to what lengths I might have to go to in order to get that chandelier down and no, my sleep deprived body was not up to the challenge. The Felice Brothers' late night set was much anticipated, and the boys had a wonderful energy that very much emulated one of the themes of the entire festival: Let's just dance and enjoy each other's company.
The music continued with a late-late night set from electronic band, Big Gigantic, till we decided to quit the glow sticks and sweaty crowds to check out an area set up for the "Silent Disco" dance party. Attendees received large headphones upon entering the fenced in patch of grass behind a red barn, and once put on, entered the dance party.
Saturday was all magic. It began with some early Portland sets. Rock-band Isobell was supposed to play at 11:00 on the Port City stage, but after getting pushed back a bit, caused an overlap with indie-rockers Brenda, who were over on the Main Stage. You'd have no way of knowing Isobell was playing though, since their names failed to appear in any of the programming and guides. In addition to missing out on Hannah looking adorable in her black romper, people also missed a guest appearance by the amazing Portland based-female rapper-Sontiago.
Isobell
Brenda also played to a modest crowd with a strong showing of visiting Portland friends and others that wandered over for the 11:30 start time. The indie-rockers were a nice change of pace from the jam/funk/reggae sounds that predominated Friday and Sunday, with their short, infectious songs. Peet Chamberlain wins for best use of sunglasses and a keyboard.
Brenda
12:00 saw a decision between Grand Hotel in the Port City barn-warehouse or Rustic Overtones on the main stage. We decided to start with Grand Hotel, where front-man Kyle Gervais wore sunglasses and put on a passionate performance, backed by power chords. The things they do are good, even if they're not totally my thing, and a few hesitant Portlanders clapped and moved their shoulders from half-way back in the barn.
Grand Hotel
While waiting for She and Him to start, I took a walk through the Karma-Wash, a line of people in brightly colored costumes holding brightly colored feather dusters under a rainbow canopy, shaking off the bad energy (if it was possible to feel any the whole weekend). After passing through some hula hoops and being misted with a "Scents of Direction" a small girl told me all of my bad karma had been released. Lovely. A perfect time to go listen to reggae-based, dub/hip-hop/dancehall incorporating, John Brown's Body.
The Brew
Drive-By Truckers
Moonalice
She and Him, the collaboration of M. Ward and Zooey Deschanel, were sweet, lovely, and Deschanel is quite possibly the most adorable lady I've ever seen on stage. If only every day could be spent in the hills of Oxford, ME listening to their 60's and 70's country-esque music. She will make you want a tambourine, long wavy hair, and red lipstick immediately. (Well, I've got one of three…) Grizzly Bear followed with an emotive, intense, and yet somehow at the same time still sparse set, filled with beautiful harmonies, and much oooingg and ahhhinngg.
She & Him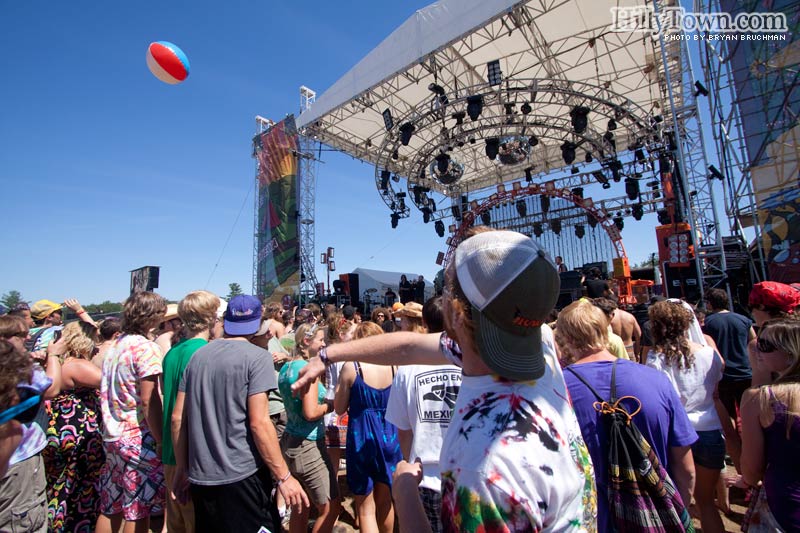 Grizzly Bear
The Flaming Lips (and fans)
The Lips' set was climactic and an immensely satisfying way to end the evening. I put some of the confetti in my purse to save for later. That weekend was indeed quite special, and I want more magical confetti in my life. As Coyne pointed out, it's what I choose to place magical value in, therefore I'm going to start by attempting to find a magical PBR in the fridge while I put some aloe on my sunburned shoulders.
I think that last one pretty much sums it all up…
Photos by Bryan Bruchman, Conall O'Brien, and Jenna Quartararo.