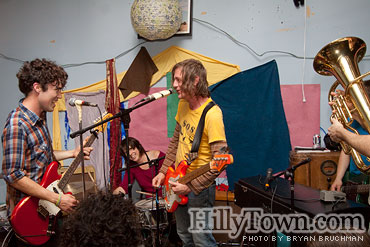 For all my talk about the Apohadion, last night was the first time I actually made it down to a show there. The space is great, and reminds me of other diy venues I've seen, especially Death By Audio in Brooklyn (but that might be the checkered floor more than anything else – though both spaces also serve as practice rooms, recording studios, and FX pedal workshops…).
Locals Wyatt Shibley and Land Of Dreams opened the night, before Dead Man's Clothes (who have evolved quite a bit since I last saw them, three band member changes back) took the stage and the chairs were cleared away. They're a strong band, doing noisier, more experimental indie rock than most of the other bands around town, and they just might be one of the city's best-kept-musical-secrets. I'm looking forward to hearing more from them in the next few months.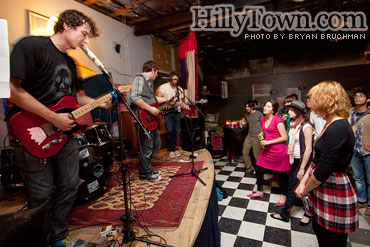 Nana Grizol (who I may have been gushing about just a little yesterday) were welcomed by a full house of friends and smiling fans. It wasn't too cold out last night, but the body heat inside kept us all extra warm and toasty enough to fight off a January blizzard. The Athens, GA's set was excellent, though I think everybody wished they could have played for longer (when a band is great, you never really want them to stop, right?). Check out the full photo gallery from the show here.