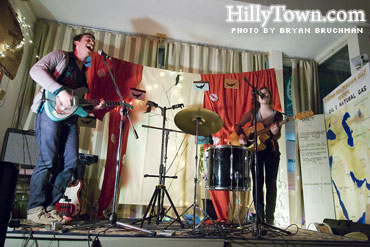 At Sunday night's show at Meg Perry Center in Portland, Lady Lamb The Beekeeper played what was supposedly their last show for a few months. The Brunwick/Old Orchard Beach duo plan to spend the next two or three months focusing on writing and recording new songs. It's been a great streak for the band since we first talked about them in November, over which time they played at just about every venue around, packing just about every show. Also of note was Aly Spaltro's show-stopping performance at the Dead Of Winter show at SPACE. With all they've had going on, the band could surely use a bit of a break. One exciting moment in the show came when we were treated to a new solo song by each member of the group (Aly and T.J.) – apparently both were so new that they just hadn't worked on them enough together to perform them that way. Seeing the way they each approached their songs revealed much about what they both bring to the sound that band's sound.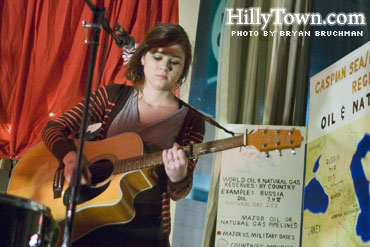 Opening the show were two touring musicians: Anna Vogelzang and Christine Lyons. Both put on great performances, from Christine's entertaining theatrical and mostly humorous ditties (not surprising, considering her other work) to Anna's strong-voiced Americana (complemented by some incredible violin work) – the highlight clearly being a full-on singalong of Smokey Robinson's "You've Really Got A Hold On Me." Apparently we were competing against a few other cities that they'd played in and we won (maybe they say that to all the crowds?). Note: I didn't take any photos of their sets. Sorry.
After Christine and Anna, Paper Birds came on. A collaboration between Dylan Metrano (Tiger Saw) and Jeremy and Jerusha Robinson (South China, Brown Bird, Plains), this particular incarnation takes the normally quiet and ethereal Robinsons to some more rockin' territory, behind Metrano's reverbed-to-the-max Lou Reed-esque jams. There were both hits and misses in the songwriting and performance, but the risks were worth it. The available recordings make the group's musical intentions a little more clear than the show did, weaving lines through parts that didn't always meet up live. I'd love to see what this trio sounds like after some more shows and in a larger venue with a system more capable of working with their complex sound: balancing electric guitar and keyboard with sparse drums and vocals is quite a feat.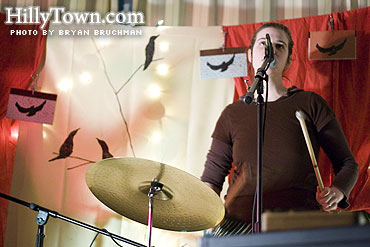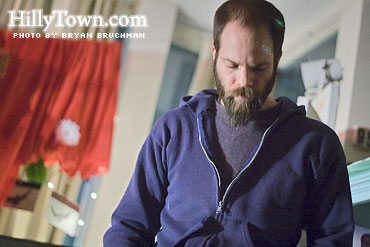 Paper Birds have a few dates with some other great acts coming up later this month:
2/25 – SMOG at BARD COLLEGE w/ The Wailing Wall [Annandale-on-Hudson, New York]
2/26 – SARAH LAWRENCE COLLEGE w/ Jason Anderson, The Wailing Wall, Soul Saint Marie [Bronxville, New York]
2/27 – MIDDLE EAST w/ Phosphorescent, Carter Tanton, Ryan Lee Crosby [Cambridge, Massachusetts]