HillyTown is happy to introduce a new regular feature where one of our staff members visits one of the many record shops around the city of Portland with local musicians to find out just where their eclectic and personal tastes come from. Introducing HillyTown Goes Record Shopping — and we couldn't think of a better place to start than with Leveret.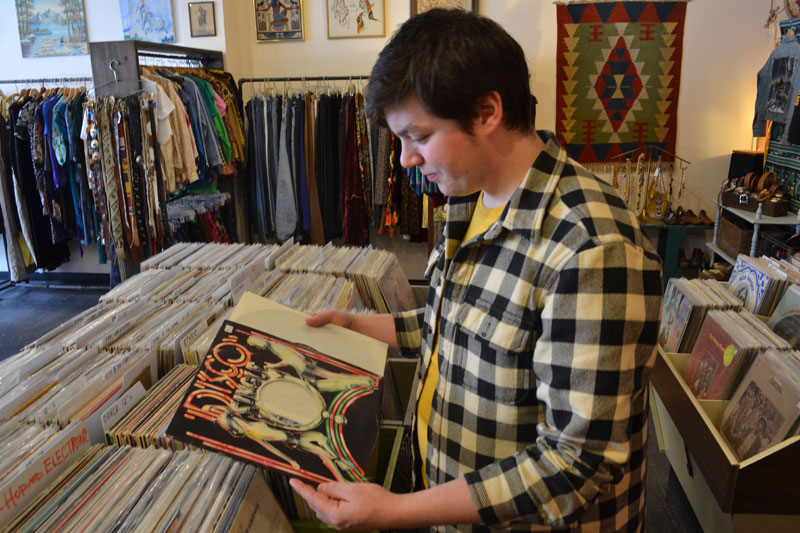 Tonight at Empire starting at 9:30 P.M., Penn Chan, Cormac Brown, and Jesse Gertz, better known as the Portland Art rock trio, Leveret, will be joined by Somerville, Massachusetts' own Soft Pyramids and local psych rock institution, Foam Castles.
If that's not enough Leveret for you, you're in luck: on Tuesday night, One Longfellow Square will be hosting the band as they continue to promote their stellar new album, Action At A Distance. Also playing that night will be Portland intellectual rockists, Mr. NEET, as part of the venue's Live and Local series; with doors opening for the show at 9 P.M.
After hearing their eclectic and fully formed debut full-length, HillyTown had to see where Leveret's musical influences came from — and we couldn't think of a better place than Moody Lords, Portland's vintage and vinyl heaven.
From R.E.M. bathtub soundtracks, to re-taped Taj Mahal cassettes gifted by a transient passerby, it's easy to see how Leveret came to sound so mature on their first exit out of the gate.
Cormac Brown
X: See How We Are
The first two records of theirs are some of my favorite albums ever, but their later stuff definitely got a little weird. But See How We Are is actually one of the later ones that I really like and still listen to.
Jesse Gertz
Aphex Twin: Selected Ambient Works: 85-92
When I was first making sort of electronic music, this album definitely influenced me. I had a teacher in high school who put a few Aphex Twin songs on a mix CD he had made for me, and it made me feel comfortable in getting weird — if you know what I mean.
CB: I had a math teacher in high school who had a program on his computer to randomly generate fractals which you could infinitely zoom in on. So, he would project these fractals on the wall while surprisingly playing Boards Of Canada.
And that was my introduction to ambient music. It was, in a way, a pretty perfect introduction to that sort of music.
Cormac Brown
Hugo Largo: Drum
I don't really know how to explain it — but it has a lot of strings on it, and Michael Stipe is the producer and has a few parts.
I was dating this girl in high school whose father sort of took me under his wing and introduced me to a lot of underground 80's stuff like Mission Of Burma. Murmur [R.E.M.'s first full-length] is incredible — I don't know why, but I remember listening to "Radio Free Europe" on repeat in the bathtub. It's the bathtub soundtrack.
Penn Chan
Taj Mahal: Recycling the Blues & Other Related Stuff
There was this one time I was out on my stoop playing the blues on my ukulele and a homeless guy came by and listened to me play for a while.
He said I sounded like Taj Mahal — but I had never even heard of Taj Mahal up to that point in my life. For some reason, he had a cassette of this album and he gave it to me. It was this horrible re-taped version of the original and it sounded like shit.
One day, I was listening to it in my friend's old Saturn, and the only way that we could hear any of it was to turn up the bass and the treble as high as they could go; and even then it sounded like muffled garbage. "Gitano Negro" was literally, the only song that played perfectly and it's so great. It's not even the blues — it's jazz.
Jesse Gertz
Lesley Gore: Sings of Mixed-Up Hearts
In high school, there was a period when I was sad all the time and I would go to school early and listen to her song "Sunshine, Lollipops and Rainbows" on repeat until school would start…it was a really weird period for me.
Cormac Brown
The Magnetic Fields The Charm Of the Highway Strip
So, I was dating this girl, and she got us tickets to see The Magnetic Fields live. But, right before the show, we broke up and I had these two tickets to see The Magnetic Fields with no one to go with.
I asked all of my friends, but they couldn't get to Boston. The next thing I know, I'm on the ride down to Boston to see The Magnetic Fields with my mother. On the way down, I helped her setup her first OKCupid account, and I was just getting back on the website myself.
So, little did I know, this would end up being the ideal way to see The Magnetic Fields live — just getting over a relationship, crying, and helping my mom setup an OKCupid account. 
Cormac Brown
Devo: Freedom Of Choice
For the most part, I think New Wave was one of the worst things to happen ever in music. I had a moment in my life where I did like it and would sometimes listen to it. But while that was going on it was taking away attention from stuff like Roxy Music and Devo — I will always have Devo.
Penn Chan
David Bowie: The Rise And Fall Of Ziggy Stardust
This is easily one of my favorite albums of all time, and I'm pretty sure it's the first record I ever owned.
I was living in Forest Hills, New York, and I was at my friend's house and they had this massive room to play pool in with this giant record collection. I had never really listened to records before, but because I had terrible insomnia, at 4AM I was awake, alone and playing pool by myself listening to this album like ten times in a row front and back.
I actually ended up stealing that record. I still have that copy, and it's an original — which I totally don't deserve and will probably never give back.
Visit Leveret online at http://www.leveretleveret.com/ and buy their newest album Action At A Distance on iTunes, Google Play or directly from their Bandcamp.