Photos by Bryan Bruchman, interviews by Will Ethridge.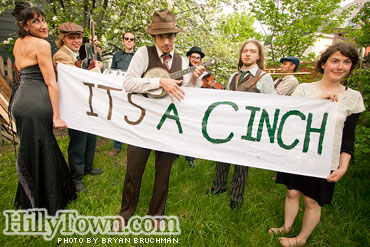 Let the music speak for itself! Come on down to the Tower of Song and get your copy of Over A Cardboard Sea's free mix CD! (the band lands right in the middle of the festival, playing at 3:05pm).
What was the most unusual place you've ever played music in?
1. I Do Like To Sing In My Bath by Alfred Lester (1920)
2. Since We Put A Radio Out In The Hen House by The Hoosier Hot Shots (1941)
3. Singing In The Rain by Cliff Edwards (1929)
What is the most mysterious album you own?
Quiz Alert!
Here's one that's sure to stump almost everyone! Come down to the booth and grab a copy of this mix CD, and listen to these two tracks. The first person to guess who the performer is will win a copy of our new album! Send your replies to our myspace page: www.myspace.com/sailingoveracardboardsea. Both of these songs were recorded in 1968 (the dates denote the year of composition). Good luck!
4. Mame (1966)
5. Toot-Toot-Tootsie (1922)
Describe your favorite sound not made by a musical instrument.
The Mills Brothers sound like they're playing with a full band, but they are actually making those horn sounds with their mouths! Incredible!
6. Sweet Georgia Brown by The Mills Brothers (1934)
Have you ever written a song inspired by a dream?
7. Oh, Mister Dream Man, Please Let Me Dream Some More by Ada Jones (1912)
8. I'll See You In My Dreams by Cliff Edwards (1924)
9. Oh, You Dream, by Eddie Morton (1910)
10. Deep In A Dream of You by Connie Boswell (1938)
11. Dream A Little Dream of Me by Ozzie Nelson (1931)
12. If Dreams Are True by Will Oakland (1910)
What do you think happens when you get too far from your house?
13. Homesick by Billy Murray & Ed Smalle (1924)
14. Yankee Doodle Blues by Billy Murray & Ed Smalle (1924)
15. There's a Mother Always Waiting You At Home by Will Oakland (1913)
For more info on the Tower Of Song Festival on Saturday, May 23 in Congress Square, visit their info page.