We've been hinting at this for a while now, and we're psyched to finally be able to announce it.
HillyTown Presents the Free Range Fest Afterparty! Starting at 10pm and open to guests 21+, the party will go down at Three Tides – an excellent bar with great food, beer, and a gorgeous outdoor space. Live music will be provided by Mango Floss and Vistas (who you can get a taste of tonight at SPACE).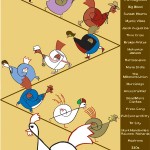 This month (Saturday, April 30) the Belfast Free Range Music Festival returns for its second year. Remind yourself of last year's excitement through our photos and recap. It was where we fell in love with The Class Machine, got sucked in by Good Kids Sprouting Horns, were charmed by The David Wax Museum, and inspired by Brown Bird. One can only imagine what surprises this year will bring.
Here's the full list of participating acts. Plan to come out and see your favorites as well as discovering some great new acts! Michael Hurley, Grass Widow, Jonny Corndawg, Brenda, Audrey Ryan, Time Crisis, Toughcats, Big Blood, Jacob Augustine, Gawler Family Band, Sunset Hearts, CatchaVibe, Broken Water, Mehuman Trio, The Rattlesnakes, Marie Stella, The Milkman's Union, Ancestral Diet, Dead Man's Clothes, The 220s, Press Gang, Full Contact Kitty, Tit City, The Spaceys, Mark Mandeville & Raianne Richards, Asa Irons, Cave Bears, VoxX, and In Houses in Trees. Read on to check out videos featuring some of these artists.