In celebration of HillyTown.com's first year, I've put together a free, all ages, Wednesday night concert series for the month of August at SPACE Gallery. Tomorrow kicks things off with Haru Bangs, Theodore Treehouse (formerly/members of The Cups), and the debut performance from Boxy (members of Brenda, Graeme K).
Tune in to Liberation By Sound on WMPG today from 3-5pm (that means now! to hear me talking a bit about the series and playing music from some of the bands who'll be performing.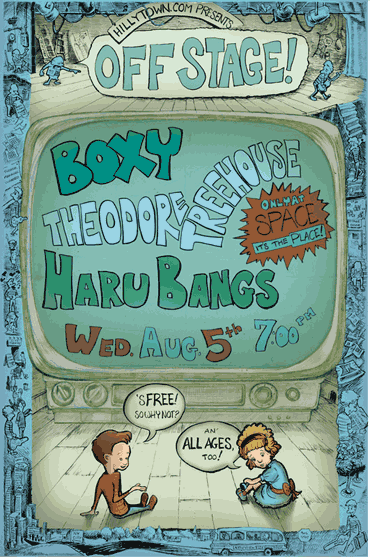 The excellent poster for this show was created by Tim Burns, whose band Phantom Buffalo will be teaming up with Computer At Sea on the 19th for a special performance at OFFStage as Phantom Computers.