It's been an eventful week around here (and it all culminates tomorrow with the big party). The fun started on Sunday at Slainte with Poingly, Eric Hnatow, Rotundo Sealeg, and a room full of dancing maniacs who braved a pretty heavy snowstorm to come out and party.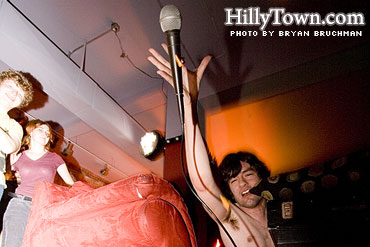 Poingly kicked it off and went full speed right away. It didn't take long for him to strip off his dress and wig (I didn't even get photos!) and plunge into the crowd to see just how this Portland audience would like his electro pop mashup punk jams. I'd say it definitely worked out – especially when the crowd participated by singing along, throwing paper airplanes on cue, and sat down on the floor to get up close and personal. One lucky fan even got Poingly's digits mid-song.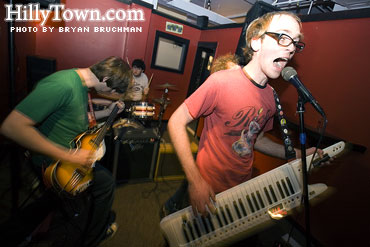 Rotundo Sealeg kept it going, picking up almost before Poingly was done, and launching into a full punk assault on the inconvenient pole in the middle of Slainte's performance area. They manage to be danceable, aggressive, and catchy all at once, and it's simply great.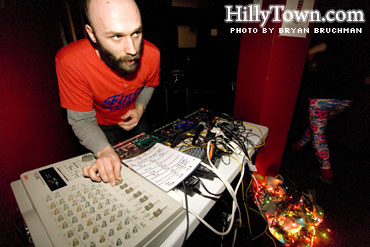 Eric Hnatow kept me updated on his travels as he made his way to Portland from a show in Brooklyn, NY (hey, he coulda given Poingly a ride!) and face snowballs the size of grapefruit, closed gas stations, and other vehicles along the way. It took him 9 hours, but he got to Slainte in time to perform right after Rotundo Sealeg. With a table full of analog gear, his beats twitched and flailed and so did he – bringing all of us right along with him. His show is not one to be missed! He's on the road for the next month, so this could be your chance.
Check out the full photo gallery from this show here.
Eric Hnatow on tour:
Feb 26 @ R3V3RB W/ Saint Solitude + more TBA Greenville, South Carolina
Feb 27 @ WondeRoot W/ Saint Solitude, Lindsay Appel, Jeremy Ray Atlanta, Georgia
Mar 1 @ CHAPEL HILL TBA
Mar 5 @ The SugarTank W/ Maple Rabbit Lancaster, Pennsylvania
Mar 6 @ Golden West W/ Thrust Lab, Mickey Free Baltimore, Maryland
Mar 7 @ Big Mama's Warehouse W/ Gold Eyes, Reading Rainbow, Dave Fell, Peter & Craig Philadelphia, Pennsylvania
Mar 11 @ Smith College Davis Ballroom W/ Nite Jewel, Triangle Forest Northampton, Massachusetts
Mar 21 @ The Starving Artist 24 Hour Benefit Show! Keene, New Hampshire
Mar 27 @ Toquet Hall W/ Bluebird Handwriting, IN Westport, Connecticut