Dilly Dilly has been through so many music scenes over the years, from touring the world with Cerberus Shoal (her former bandmate from that group, Chriss Sutherland, is also on this festival) to backing Sage Francis to teaming up with Sontiago (who she shares the 3:40pm slot with at this Saturday's Tower Of Song Fest), she's now ready for her own spotlight, with a killer album just waiting for the right audience. Get a preview this weekend, and then don't miss her opening slot for Pink Mountaintops at SPACE Gallery on June 3. For extra fun, check her out in the Kim Gordon role at the Sonic Youth vs. Pixies Clash Of The Titans the night before at Empire.
Photos by Bryan Bruchman, interviews by Will Ethridge.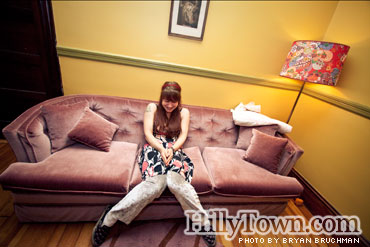 What was the most unusual place you've ever played music in?
I'll tell you about the most unusual think that's ever happened at a show.
Cerberus Shoal had just finished setting up for a show at KSET in Slovenia. Chriss, Tim and I were still on the stage messing around on our instruments when all of a sudden the stage started shifting back and forth. Tim had just jumped off the stage so I thought it was his heavy feet… but seconds later we were told to leave bacause we'd just experienced an earth quake! My first ever… a 3.1!
What is the most mysterious album you own? (i.e. you don't know anything about the musicians' identities)
I pretty much have a good grip on the identities of the cd's I own… but my most favorite and weirdest cd is a cd called Indiependent by Mission Man. He was a fan of mine on My Space and I first met him on the Sage Francis tour where he handed my this amazingly strange album. The only way I can describe it to you is by saying it's the most honest album I've ever listened to. EVER.
Describe your favorite sound not made by a musical instrument.
This is kind of cheesy, but I'm a whistle/ bird call kinda person. I love the trills and songs that come from these amazing little flying creatures. I suppose it's the little things that keep me going.
What do you think happens when you get too far from your house?
The further I get, the more I feel like I'm living life. I love touring and being out of my home comfort zone. Finding a new comfort in first impressions and a different story every day. It's the hardest/ easiest thing i've ever done in my life. This is what happens. Viva la road!
For more info on the Tower Of Song Festival on Saturday, May 23 in Congress Square, visit their info page.