Local bluesman Samuel James is a busy guy. Not only does he hold down a Thursday night residency at Blue but he is regularly tapped for opening gigs for the likes of Johnny Winter and the like when he's not touring the country. Between official gigs you can often find him playing somewhere around town, wowing crowds with his slide guitar work and knack for storytelling.
Photos by Bryan Bruchman, interviews by Will Ethridge.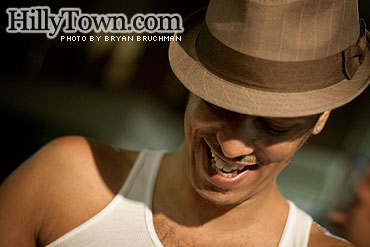 What was the most unusual place you've ever played music in?
I once played in a Christian Blues bar, but didn't know it at the time, and told a joke that starts, "Jesus & Moses are standing on the side of the Red Sea, when Jesus turns to Moses and says…"
What is the most mysterious album you own? (i.e. you don't know anything about the musicians' identities)
I own this album, "Dan Pickett," by Dan Pickett. It's a compilation of recordings he did in the 1940s. It's pretty great, but who the hell was that guy? You ever heard of him? No. I know for a FACT that you haven't, you fuckin' liar.
Describe your favorite sound not made by a musical instrument.
Farts. Sorry. It's true. Farts. Ask anyone.
For more info on the Tower Of Song Festival on Saturday, May 23 in Congress Square, visit their info page.