I tried to get photos and interviews for all 9 acts performing at tomorrow's Tower Of Song Festival (Saturday, May 23) and definitely came close, though a couple didn't quite get finished. Below is a photo of the band that will close out the festival, Spencer And The School Spirit Mafia, taken at the incredible Temptations Vs. Supremes Clash Of The Titans the other night.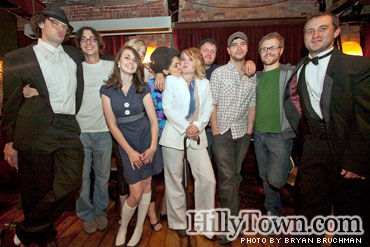 Additionally, Chriss Sutherland was totally cooperative but our schedules just didn't work out to do a photo shoot. The photo below is from an outdoor concert last summer. Chriss has a new album called Worried Love, available now from Peapod Recordings. He plays the Tower Of Song Festival second, at 12:35.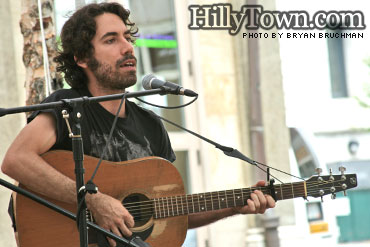 Since I'm skipping the usual HillyTown Roundup this week in lieu of the Tower Of Song Fest coverage, here are just a few other shows of note happening this weekend:
As a final treat, since Dilly Dilly, Sontiago, and Lady Lamb The Beekeeper are all going to be performing at the Tower Of Song Fest, here's a shot of their collaborative alter-ego, Hairy Brass Knuckles. You may remember them from this.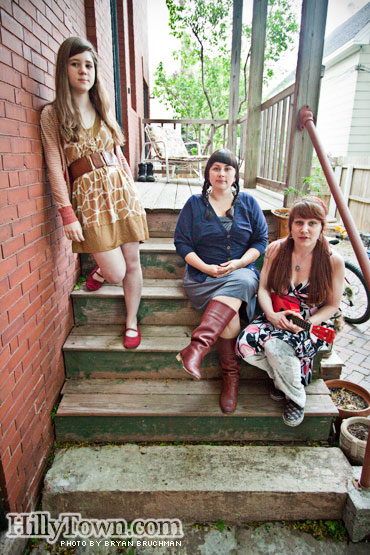 To review, here are all of the Tower Of Song Festival performer HillyTown portraits & interviews: Jesse Pilgrim, Chriss Sutherland, Anna's Ghost, Samuel James, Over A Cardboard Sea, Dilly Dilly & Sontiago, Lady Lamb the Beekeeper, Johnny Fountain & The Manes, Spencer & The School Spirit Mafia.
Happy Summer!